M.I.S. of America is an independent distributor of a vast range of systems and equipment from a variety of manufacturers. From full systems to parts and accessories, our experienced team is ready to work with you today to outfit your facility with custom tailored solutions using the latest technology and environmentally friendly products.
Please find a summary of some of the equipment we have available, and do not hesitate to reach out to your local representative or contact us today to discuss your needs and goals, or for a price quote for anything offered.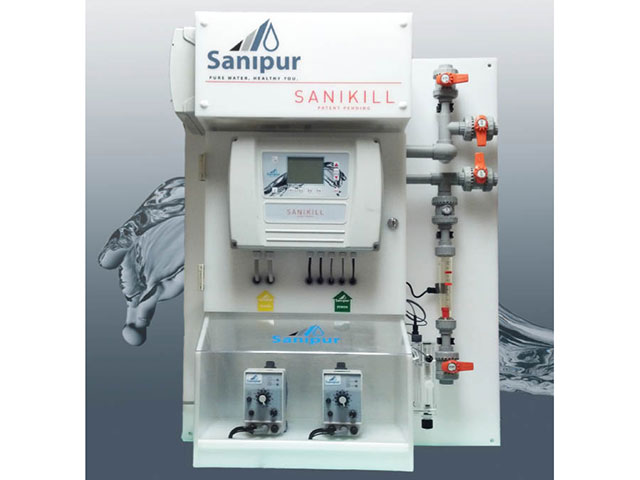 Sanipur Monochloramine Systems
Simply put, Monochloramine is used to disinfect domestic hot water plumbing systems.
The Sanikill® System is a patented design to produce, dose, monitor and trim Monochloramines into a water system. Designed and Patented for use on the Domestic Hot water systems to prevent colonization of waterborne pathogens, such as Legionella. Monochloramines are more effective than other treatments due to their stability. This stability is what allows Monochloramines to penetrate biofilms without damaging the plumbing system. It is compatible with all types of piping.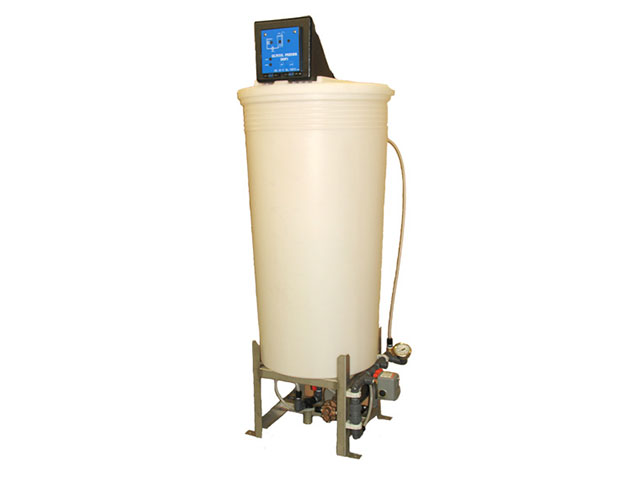 Digital Glycol Feeders
Digital Glycol Feeders provide a consistent operating pressure in closed loop systems. This allows a controlled percentage of glycol solution to be fed from the storage tank. These are an all in one self contained unit that just need to be piped in to be put into service.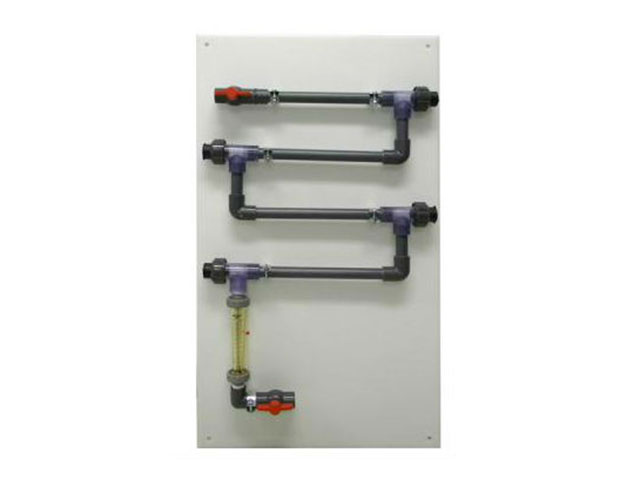 Corrosion Coupon Racks
Corrosion Coupon Racks are a simple and inexpensive way to help control and monitor corrosion that is taking place in your systems. They are generally installed on the side stream of re-circulation systems to allow for controlled testing of coupon samples. The coupons are periodically removed and examined by a laboratory in order to determine corrosion rates and other effects such as pitting and deposition. Coupons are available in Aluminum, Brass, Copper, Steel, Stainless Steel, etc. to help monitor all parts of your systems.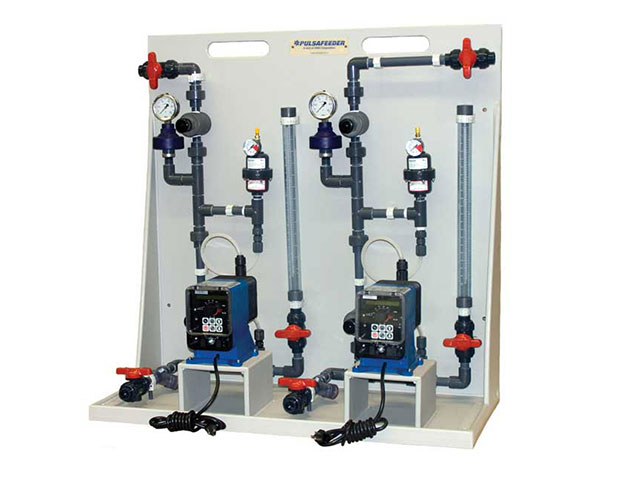 Pre-Engineered Systems
Pre-Engineered Systems are designed to provide complete chemical feed solutions for all electronic metering applications. From stand alone simplex pH control applications to full-featured, redundant sodium hypochlorite disinfection metering, these rugged fabricated assemblies offer turn-key simplicity and industrial-grade durability.
Using softened water will help reduce scale formation in your buildings and will reduce the cost of your water treatment program. Softeners will end up providing a more efficient system, which will save energy costs and prevent early replacement of the components of your heating system. Let us take a look at your system and we will be glad to quote you on a softener that will suit your applications. Our in house lab can analyze the resin in your softener to determine if it needs to be replaced or if using our resin cleaner RC-2535 will be sufficient enough to clean up the resin in your softener. We also can supply you with salt for your softeners; by the bag, by the pallet, or any quantity in between.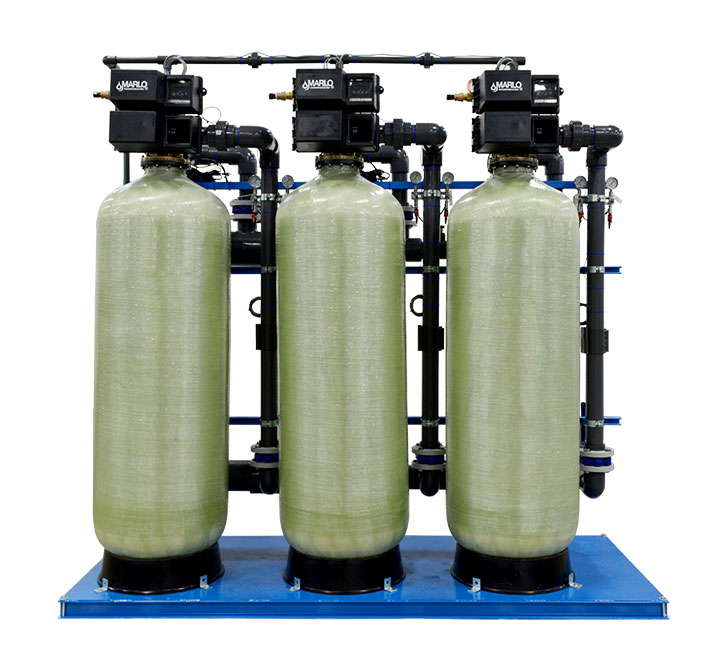 M.I.S. of America carries a full line of filtration systems for hot water loops, chilled water loops, and cooling towers.
Investing in a filtration system can save you time and money, reducing the overall cost of your water treatment program. Filters can be implemented as part of a green treatment program, and may help qualify for LEED points.
A filter system can help control erosion and corrosion in piping, reduce suspended solids in water, protect pump seals and valve packing, reduce the source of fouling, and reduce the formation of scale deposits – all while requiring less blowdown.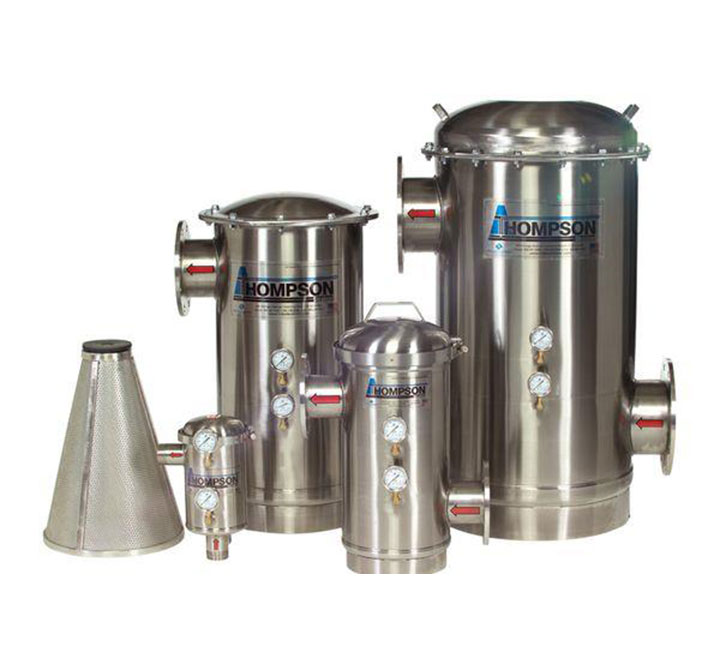 Bypass Filter Feeders
5 and 7 gallon sizes are the most popular
Bag filters are available in 5, 10, 25, 75, and 100 micron sizes
Bags are washable and can be reused
We stock both Vector and Neptune brands
Cartridge Water Filters
Flow-Max Commercial Filters
Stainless steel housing band clamp lid
Jumbo deep-pleated filters
Washable cartridge filters
Micron sizes from 1 absolute to 150 micron
High temperature cartridges available up to 250F
Thomson Strainers
Inverse cone filters 
Particles collect in sump 
Blowdown to clean
Stainless Steel Housing
Various flow rates available
Wide range of micron sizes
Turbo Disc Filtration
The latest technology in water filtration
Completely automatic
Disc Filtration
Wide variety of sizes, micron ratings, and flow rates available
Sand Filters
Micro Z filter media
Out performs sand media
Increased surface area
Deep bed filtration  
Higher flow rates
Filtration to 5 micron
Tower Screens
Air intake filtration
Keep cooling tower fill clean
Diffuses UV light
Reduces bio-growth
Stops cottonwood pollen
Saves man-hours for cleaning
Custom fit to your tower